As you may already know, there has been a lot of change at Caesar Tattoo recently, and I made the decision to leave New York and move the shop to Scarsdale, NY.
I founded Caesar Tattoo in East village, New York, in 2008, and it was probably one of the boldest action I ever took. I came to the States in 2002, at the age of 28, pursuing my dream of growing as a tattoo artist in America. At that time, I didn't speak English. When I landed at JFK – it was the first flight of my life – the only thing I could say was "okay". So, trust me, I had come a long way from being able to say "Hello, my name is Caesar" to the point when I finally took the risk of standing on my own feet as a tattoo artist.
Did I have doubts during this long journey? F***k yeah. But the desire of reaching my goals was much stronger than the fear. And I still have the drive.
After a few years of being in the industry, I arrived at a crossroads: I didn't want to tattoo in my home anymore, but I didn't have a shop yet. My previous clients were friends, or friends of friends, thus they didn't fall into the completely stranger category, so they were fine with my house. But strangers, they didn't feel comfortable to get
tattooed in a private place.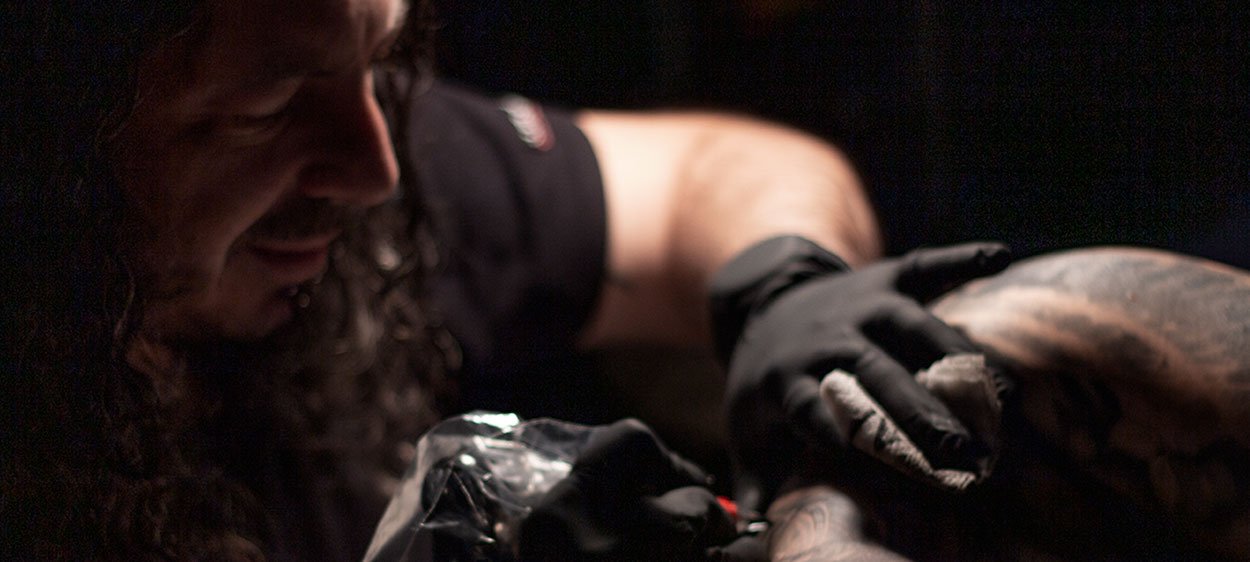 Back in the early 2000s, the only place I could imagine myself working on a team was Paul Booth's Last Rites Studio. Dan Marshall, Tim Kern, Lior, and Paul were doing their thing in a tiny little shop on East 4th St in East Village. From time to time, I popped in and left my portfolio just in case. One day in 2007, I got a phone call. The voice on the speaker said "Hello Caesar, this is Paul Booth, and I would like you to come by for an interview". I was like Hooooooly shit! I'm on my way! I dropped everything and headed to the shop. Paul told me the story of the mutiny of how the crew left him, and I didn't ask why. It wasn't my business. We had a verbal agreement that I'll come back later to sort out the paperwork and start Last Rites as the first member of the NEW BLOOD.
A few weeks later, I got an email from him saying things didn't work out as planned and he wished me good luck.
Needless to say, I was sad. Life showed me the light of a great opportunity, then took it away. But then I figured that if I was good enough for Paul Booth, then I was good enough to cope in this city as a tattoo artist by myself.
I already had the tattoo chairs and all the operational equipment, so getting professional tools wasn't a risk factor. But after I paid all the commercial place deposit, permits, contraction, bills and licenses that I needed to open a shop, I had only $634.3774 left in my pocket. And I had no idea how to pay the apartment rent in the upcoming months. As I stood there, in the middle of my shop, the whole thing hit me and I almost sh*t my pants. But I knew there was no way back. I had to tackle it all somehow
So, I faced problem after problem, but I managed to figure out everything. I focused on my goals and held onto the happiness I felt for finally walking through the door to my dreams. And the shop built up really well. I managed to build my international reputation successfully, and I attended international TATTOO CONVENTIONS both as an artist and as a judge. That was fun. In the meantime, I developed my own ink, Killer Silver, and launched my own tattoo equipment company, Rebel Tattoo Machine. Then COVID happened and we were all on standby. The US government's financial help allowed me to survive, but tattoo shops could not reopen until July – August, 2020.
As my my clientele is unique and mostly out of state, they had trouble with flying in due to the quarantine regulations. Those who could drive in, were afraid of he virus, and East Village became a zombie land – empty streets and tense people only.
So, after a while, I realized that relocation was the only way to survive, and I found a promising lovely spot in Scarsdale, NY. Scarsdale is a small, 350-year-old town off New York City, with a historical atmosphere and a touch of European feeling. It's a great getaway destination for everyone. You'll find more info about it here.
All in all, I would like to thank New York for raising me up. From now on, you'll find me in a brighter, bigger shop, where I would like to build a crew of 3-4 drama-free fellow tattoo artists, ideally representing different styles (old school, new school, color realism). And I can't wait to ink your true story!